"2020 Gave Us The Opportunity To Learn What The Younger Generation Wants And How We Can Improve."
June 17, 2021
iSportConnect's Ben Page recently spoke to Adam Collins and Martin Marinov of the International Canoe Federation after their Sprint World Cup in Barnaul, Russia, one of the markets the organisation is targeting for expansion.
How has the restarting process been this year for the ICF, and how did the recent Sprint World Cup go with not long until the Olympics begin?
Martin – Well in 2020 we held only one competition for the whole season and our athletes were hungry for racing, we did a survey and discovered they really wanted to continue racing if it were possible, so we've been doing everything to hold events again.
We put safety measures in place like wearing masks, distancing, temperature checks, and we had test centers on site taking PCR tests on arrival and departure plus regular lateral flow tests. Luckily we had no positive Covid tests, so it was a really good experience and the athletes were really good [with the restrictions], because they were thinking about the Olympics where, if they got COVID now, it would be very difficult for them if they need a couple of months to recover. So the athletes were strict in following all the restrictions, protecting themselves and others even more than we asked, so it was a good experience.
"We had to create something sustainable, that we can use for the future as we don't know how long Covid will stay… we had to learn how to run competitions during this pandemic."
We tried to create a different approach and told everyone competing 'Covid is not going to disappear from the world in a month so we have to learn how to deal with it in this environment. We had to create something sustainable, that we can use for the future as we don't know how long Covid will stay, but we couldn't just cancel competitions, we had to learn how to run competitions during this pandemic.
That's interesting, I haven't heard anyone else speak about the athletes themselves, particularly those going to the Olympics, being even more cautious than the actual organisations that are setting up these events.
Martin – Obviously you get some slight differences between nations. Some are much more wary from what they maybe experienced within their home nation, compared to others. But it really is a big risk for them to potentially affect everything logistically, if they were to catch it and have to quarantine somewhere that affects their training, their flights, so it's a big deal.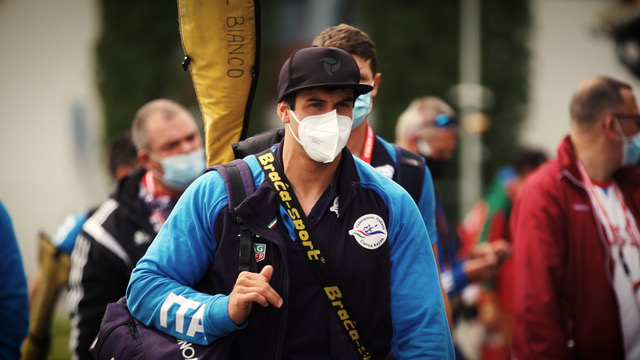 We saw with some who have already booked their place it wasn't worth trying to go to that extra effort to compete when they already have a place, for instance the Australians, it was almost impossible for them to get out. If they do get out, they're probably not going to be able to return to Australia before the Olympics.
Looking at a digital perspective, what has the ICF been doing in terms of developing your online presence over the last year?
Adam – It was a challenge for us without any competitions, we rely on them a lot as we have 10 different disciplines. So for that reason we have a lot of events to get through, we've got the two Olympic disciplines, sprint and slalom which have a World Championships and World Cups every year, then with the other disciplines, some have World Championships every year and some every other year.
In 2019 we live-streamed 18 events across all the disciplines, which was more than we'd ever done before, which shows how heavy our event schedule is and geared towards the live coverage of those competitions. It was a real challenge for us to think about content outside of that, because we weren't doing enough of it, but it was also quite good for us to realise that actually there's more we should and can be doing.
"I'm really happy with 2020 because 2020 really gave us the opportunity to learn what the younger generation wants, using what we can do online, how we can engage people, and how we can improve."
We did a whole manner of things to engage people and keep content going. We created canoe kids, resources for kids to do at home to try to educate them about the sport. We also did some podcasts, tried new things with athletes and challenges to keep people active by paddling and livestreams for coaching to upskill people. Stand up paddling also had a big uptake once people started to get out of lockdown, so we've to help give some tips to beginners through live sessions with athletes.
Martin – I'd also like to add that, actually, I'm really happy with 2020 because 2020 really gave us the opportunity to learn what the younger generation wants, using what we can do online, how we can engage people, and how we can improve.
A lot of our partners were talking for years and years to create virtual competitions and virtual training between people from different areas, by the end of 2020 that was in effect, so we now have options to have virtual competitions and online training between different people which is really positive.
What are the main keys you are looking to gain through your broadcasting and the content that you produce?
Adam – At the moment we're most committed to exposure and growing the sport, we utilise YouTube for reach and help the SEO of our website to drive traffic to us. The exposure through YouTube is obviously great and has been doing really well, it's tripled over the last few years prior to the pandemic.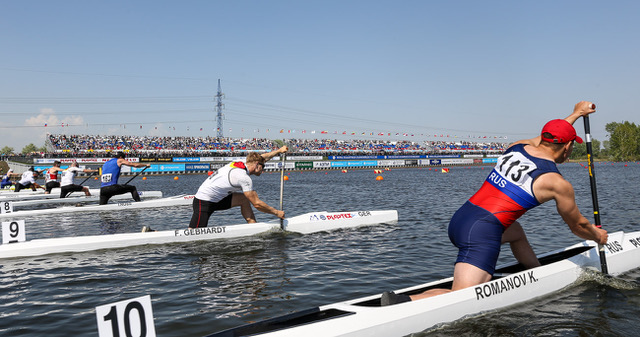 We also started to distribute to other channels, we utilise Facebook Live, and we have developed a Huya channel for exposure in China, which was a new development in 2019 and had huge success as we had up to 500,000 live viewers and 30 million views for the five events we covered, so we've continued with it.
It was fantastic because prior to the Olympics there had been no live coverage of canoeing within China and the next step is to build a better connected audience with them.
You just held the recent sprint World Cup in Russia, is this a key market that you're looking at expanding and what's the role an event like this can play to do so?
Martin – Russia is one part of what we're targeting. Russia and all these countries say they're hungry for more action, and having a competition in a different part of Russia definitely brought a lot of people to the course and also in front of TVs in Russia.
Like Adam said, a couple of years ago we had massive expansion in China and in 2019 they had four gold medals at the World Championships for the first time which was a massive success for them. So Russia and of course the US market is a goal and that's why we have the ICF Canoe Sprint Super Cup this year in Oklahoma in August, one of our top events with superstars of the sport.
Adam has also successfully managed to gain massive support from India, we've seen so many Indians watching our competitions, so our targets are the big countries, also Australia, and, following on from Rio 2016, in Brazil there's a big interest. Right now we have top guys from all these countries, which really helps us to promote our sport.
As you have so many different events, you can take them to many places, does that give you a bigger opportunity by being able to get closer to those potential fans?
Martin – That was definitely our goal in Russia, and we want to expand our sport outside of Europe. We also want to create a culture that competitors can use rental boats, they don't have to bring their own boats. We want to have competitions in America, Africa, Asia and Oceania. This was like a pilot project, which was successful, no one complained about the boats, which usually have their colours on and maybe their sponsors, even though it was an Olympic qualifier which brings a lot of stress to the athletes.
What are your current key markets? You mentioned expanding to some major countries, but what are your biggest markets currently?
Adam – As Martin mentioned we are predominately a very European sport at the moment, and I think most of that centres around the boat issue which is what Martin has been trying to solve and did successfully in Russia. The other challenge is thinking about the environmental side. Normally they drive from one event to the other in Europe and can transport the boats much easier, so we have to think about those impacts as well but for that reason it's a very European sport.
It's a difficult question to give a single answer because of our different disciplines, they're almost like different sports themselves. Sprint is huge in Hungary, canoe sprint is like football to them, and then we have a lot of the predominant European nations, UK, France, Spain, Germany, but we know there are markets with good athletes outside that. We worked with Redtorch to do some digging into our social analysis to identify our current and potential key markets across all our disciplines. This has helped to target our developments, America has that culture and history of paddling but are only just having some top athletes come through so we focus on recreation and look to build that bridge to competing.
Martin mentioned athletes from China and Brazil having success, outside of your own content have you involved those athletes?
Adam – The Chinese Federation have really helped develop the sport a lot there, and they have medal hopes for Tokyo. In 2019 they invested a lot into events, we'd never been holding events in China before, suddenly we had three in one year. So when a nation wants to help push the sport that much, we should embrace it and that was a fantastic opportunity for us to do that. 
"With Brazil, they've got a couple of athletes who are really popular and have really good following, so anything they do on social media goes really and therefore we target them. These are partnerships we're trying to build."
Of course you get the challenges with the Chinese, it's harder for us to communicate and work with them and we need to start working with other agencies to help that through our strong relationship with the Chinese national coach, who actually was doing some commentary for us on our live stream in China.
With Brazil, they've got a couple of athletes who are really popular and have really good following, so anything they do on social media goes really and therefore we target them. These are partnerships we're trying to build and we have been working closely with some of those. One of these athletes was Pepe Goncalves, who's a Brazilian slalom paddler and also extreme slalom paddler, he's been fantastic for us, he's great to work with, and he always goes down really well on social media so we've developed for a good relationship with him and hopefully we can do that with more athletes too.
How do you try and capitalise on the boost of the Olympics despite it not being your own event?
Martin – Events like the Olympics are actually a reasonably small competition for us as it's a small regatta and we are looking at how to spread this between more countries because people are interested to watch their representatives. We want competitors from continents like Asia, America, Africa, so we have methods from each continent to engage these people to watch it.
We do have dialogue with the IOC but it's quite difficult to implement changes to events as they have so many other competitions, whereas with our own we're obviously in total control. Then there are restrictions on the sport presentation which Adam can talk about.
Adam – Yes, the promotion of it is a real challenge from our side and always has been with the Olympics because understandably they're very protective of their brand and their content, which has only being escalated by the Covid situation, the safety is paramount there so it's going to be very difficult to have any access to athletes.
We're working on ways we can communicate with them and get content differently from normal, using technology to help give us access to them and using them to upload videos and content to us. So we'll have to rely on athletes who are proactive there. On the one hand athletes are more focused on performance, and it's hard to request too much, but now they won't have the same experience as normal and could just be in their hotel room for large amounts of time so may be more willing to produce content for us.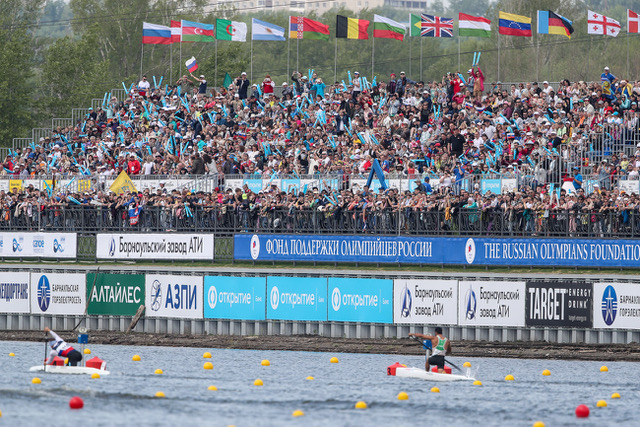 We will have a lack of content as we're one of the smaller sports, so won't have any live coverage on the Olympic channel, which becomes a challenge to try and promote the coverage in different countries as it will come down to the rights holders.
How much of a part do the athletes play in terms of making themselves available in order to promote the sport that they love for someone like the ICF?
Adam – Some athletes really understand that and I think a lot maybe don't fully get the bigger picture of how it's all connected and how they can help grow the sport, and themselves at the same time. Some just don't make that connection. We tend to revert back to the same people, just because we know they're easy to work with, but hopefully we can build more relationships.
I think when I first started, there was clearly a sort of breakdown in relationship between the Federation and athletes, so we've done a lot of work to build on that and work much closer with them and hopefully I think they're starting to understand the benefits and how we can help each other.